Phoenix Nissan Dealer Researches the New Leaf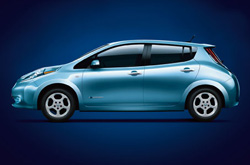 Research from Midway Nissan on the 2013 Nissan Leaf can be viewed below the video. We are a stellar Nissan franchise in Phoenix, and it's our mission to serve you with Nissan reviews composed by some of the most striking automotive writers in the industry. The following article is crammed with essential material- it contains everything so that you can make informed decisions about the Nissan you want to buy. We wish you the best of luck in your search for the perfect Nissan!
360 Degree Nissan Leaf Video
2013 Nissan Leaf Quick Specs
When comparing the 2013 Nissan Leaf to the 2013 Chevrolet Volt, Ford Fusion Hybrid and the Toyota Prius, and you'll notice that the Leaf scores higher those autos in numerous aspects. Take a look at just a few of the reasons below.
2013 Nissan Leaf MPG: 106 city / 92 highway
2013 Nissan Leaf 0-60 MPH in 7 seconds
2013 Nissan Leaf Body Style(s): Compact Sedan
2013 Nissan Leaf Colors: Cayenne Red, Super Black, Blue Ocean, Pearl White, etc...
2013 Nissan Leaf Cargo Space: 24 cubic feet
2013 Nissan Leaf Seats: 5 passengers
2013 Nissan Leaf MSRP: $32,780
Features & Accessories Available on the New 2013 Leaf
Engine Specs: See What's Under the 2013 Leaf's Hood
Warranty & Safety Information for Phoenix Leaf Owners
Maintaining Your Investment - We're Here to Help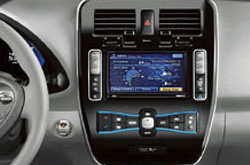 No national car repair sites in Phoenix, Arizona offer Midway Nissan's fantastic combination of certified Nissan Leaf service techs, lengthy warranties on all work and Nissan OEM parts. If you shrug off getting dependable repair work, your Nissan Leaf's fitness might be harmed, so take it to the helpful mechanics at Midway Nissan. Our techs can work on a large spectrum of jobs - from tough stuff like Nissan transmission repair to less laborious endeavors like serpentine belt and tire alignment and replacement. Midway Nissan's got you covered for dependable Nissan repair and factory-scheduled service in Phoenix. Take a look below to view money-saving service specials.