Midway Nissan is excited to be the premier source for the Nissan LEAF in Arizona! Midway Nissan is an Phoenix Nissan dealership and carries a large inventory of New Nissan LEAFs.

This car is an eco-conscious electric car, and is driving toward the movement to go green. The LEAF will be practical, competitively priced, and completely revolutionary. The LEAF is 100% electric, and has no need for polluting the air with expensive gasoline. This also means that it will not emit any carbon dioxide.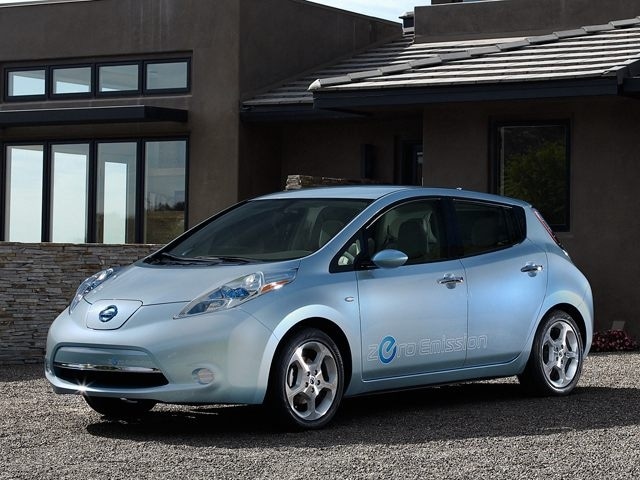 When shoppers compare the Nissan Leaf to other makes like the Chevrolet Volt and Toyota Prius, the 2011 Nissan Leaf shines as the most fun-to-drive. Starting with the 2011 Nissan Leaf, owners found this affordable Compact Sedan's crisp handling and lively acceleration to be reason enough to choose.

The designers and engineers behind Nissan LEAF's creation worked to develop a competitively priced car that would allow Nissan to emerge as a leader into the zero emissions era. With comfort in mind, the combination of cargo capacity and spaciousness join together to meet the customer's real-world wants and needs. Additionally, Nissan LEAF encompasses an entirely new body layout and chassis.
Nissan LEAF gets its power from laminated compact lithium-ion batteries, which generates power output of over 90 kilowatts, while the electric motor delivers an impressive 80kW/280Nm. This guarantees a fun-to-drive, responsive experience that keeps in line with what consumers have come to expect from vehicles powered internal-combustion engines (ICE). Unlike other ICE-equipped automobiles, Nissan LEAF is without a tailpipe, and in turn there is no emission of CO2 or other greenhouse gases. A combination of LEAF's innovative lithium-ion battery packs and regenerative-braking system enables the car to deliver a driving range of more than 100 miles on a full charge. Nissan's approach makes charging convenient and simple. The Nissan LEAF can be charged up to 80% of its full capacity in under a half hour with a quick charger. Charging at home through a 200V outlet only takes about eight hours - which is simple to do when you retire for the evening.
LEAF also includes its latest creation, the VSP system for reverse and for forward motion, to alert the blind, pedestrians, and others to its presence. It makes a noise that is easily heard for those outside to be mindful of the vehicle?s approach, but the warning sounds do not distract the occupants inside of the vehicle. The driver can easily and temporarily turn off the sounds through a switch inside the car, but the system will automatically reset to "On" the next time it?s turned on. The system is controlled through a synthesizer and computer in the dash panel and the sound is then delivered through a speaker on the driver's side.
The LEAF is for sale at your Premier Phoenix Nissan dealership. The LEAF provides a pleasant driving experience and a smooth ride. To find the Nissan LEAF in Phoenix, Arizona that is just right for you, Midway Nissan warmly welcomes you to browse through the rows of LEAFs for sale and test drive one today. For Nissan LEAF in Phoenix, there is only one place to go, and that is your Number One Nissan dealership, Midway Nissan!