Summer is here and that means the time to crank up the AC for cool relief from the heat that causes exhaustion, stress, and otherwise rain down on the day. If the AC in the car hasn't been serviced for some time, it is probably a good idea to schedule service so you aren't dealing with breakdown issues at the most inconvenient of times. It's also a good time to schedule service if you suspect the AC isn't performing at efficiency. Nothing is better than a cool car AC on a hot summer day. Don't swelter through the heat without your AC this summer!
Should I Schedule AC Preventative Maintenance?
The easiest way to avoid AC breakdown is regular preventative maintenance services provided by Midway Nissan. Once per year, experts evaluate the AC, change out worn parts, refill freon and take numerous other steps that prevent AC breakdown so you're free to enjoy the cool air from the car day in and day out. This service is much cheaper than an AC repair and prevents the frustrations of being stuck inside of a hot car.
Why Doesn't My AC Get Cool?

If the AC is putting out warm air or if it cools when it is turned on but quickly turns warm, you should schedule service with a professional. There are numerous reasons why the AC is no longer cooling the way that it should. The simplest of the causes is a freon leak or a lack of freon. Other potential causes of AC trouble include clogged lines and hoses, clogged expansion tubes, problems with the motor, and even a vacuum leak.
How Do You Detect an AC Leak?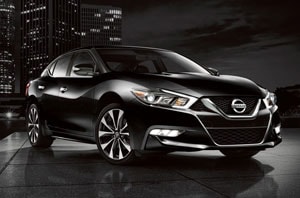 We use state-of-the-art diagnostic tools to detect a leak and it's exact location so repairs can begin. Our tools ensure that a precise diagnosis of the location/problem is made so you never pay for a repair that really isn't repaired.
Why is My AC Leaking?
AC leaks are the result of moisture buildup that causes hoses and gaskets to loosen. Whether it is age or other primary causes of moisture build-up within the AC, it quickly takes its toll and leaks are inevitable. This is a quick fix when you bring your vehicle into the AC repair experts.
What's That Smell?
Foul odors coming out of your car's AC is not a part of normal operation. These odors can be the result of mold/mildew buildup within the evaporator coils or a dirty cabin filter. Either issue is fairly simple to repair, so schedule service and get rid of those funky odors!
Why is My Airflow Weak?
Weak airflow is a common complaint that many drivers share. When The air isn't properly blowing in the car, it is frustrating and nearly as bad as no air at all! If the airflow from the vehicle AC begins coming out weak or you notice the car takes longer to cool off, it could be the result of mold accumulating in the evaporator coil, a bad ventilation fan, or hoses and seals that have loosened.
Visit Us Today at Midway Nissan to Have Your Vehicle Serviced!
Service Hours
Monday

7:00 am - 6:00 pm

Tuesday

7:00 am - 6:00 pm

Wednesday

7:00 am - 6:00 pm

Thursday

7:00 am - 6:00 pm

Friday

7:00 am - 6:00 pm

Saturday

7:00 am - 4:00 pm

Sunday

Closed