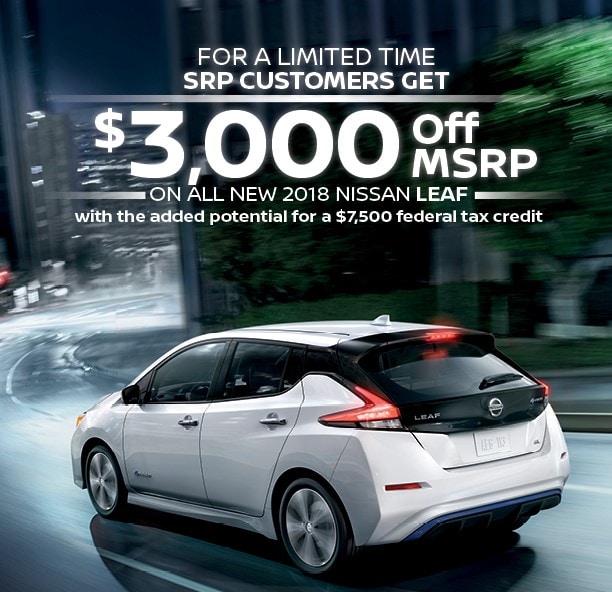 Just bring a copy of your SRP bill (printed or an e-bill and a printed copy of this flyer
(offer flyer)
to Midway Nissan and we'll put you in the driver seat of your new Leaf!
The 100% Electric Nissan Leaf
Make Every day feel simply amazing
Get ready for a whole new way to drive. Feel the thrill of instant acceleration every time you press the pedal and the confidence to go farther than ever. And now with a suite of advanced driving features, the all-new Nissan LEAF is more than the world's best-selling electric vehicle1, it's your partner in making every day simply amazing.
Take Control of the Next Automotive Revolution with Nissan Intelligent Mobility
A RESPONSIVE PARTNER FOR EVERY JOURNEY
Feel more confident, connected, and simply, thrilled. Nissan Intelligent Mobility makes driving a whole new experience. Imagine feeling the rush of acceleration and braking, while using just one pedal. Or imagine getting an assist or alert from your Nissan LEAF, when you need it most. Advanced technologies like e-Pedal, Automatic Emergency Braking, and available ProPILOT Assist will literally transform your daily commute.
Thrilling performance from Nissan Intelligent Mobility
IT'S A RUSH YOU NEVER SAW COMING
A 100% electric drivetrain means instant, push-you-to-the-back-of-your-
seat acceleration. The fun continues with the innovative e-Pedal, which lets you accelerate and brake with only one pedal. And when you turn the wheel, a low center of gravity helps you hug the road.1


Nissan Intelligent Mobility Takes You Farther
range & charging

  *   With 40% more range, easier charging than ever before, and innovative tools designed to help you maximize your range, there's never been a better time to go electric.  The 2018 Nissan Leaf has up to a 150-mile range with a 40 kWh battery3.

The Rewards of Going Electric
savings & benefits

With a 100% electric motor, say goodbye to the gas station and more. Fewer moving parts overall deliver the unexpected perk of lower maintenance. And with potential savings from tax credits and other incentives, the benefits keep adding up.


Stay Connected
Advanced technology

Nissan LEAF keeps you connected to your world, whether seamlessly connecting to your iPhone(r) with Apple CarPlay(tm) or providing you with customizable information about your drive. It makes every ride smarter and more fun.


Sensational Design
A bold new look

As exhilarating to look at as it is to drive, the all-new Nissan LEAF features sharp lines, a dynamic front end, featuring a unique multidimensional translucent blue grille, and a signature "floating" roof. Inside, you'll find a roomy, comfortable interior and an entirely redesigned modern dash.