Phoenix Nissan Dealership Reviews the New 370Z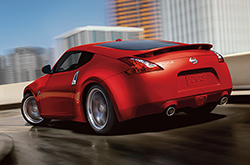 Car ownership in Arizona has plenty of advantages. After all, the sunny, blue skies, winding mountain roads and highway straight-aways offer major potential for drivers looking for some extra adventure, while flat city streets and temperate winters make sports car ownership a breeze. So, we ask, what better car to experience the fun in than an all-new 2016 Nissan 370Z in Phoenix?
Offering an ideal blend of everyday practicality and sports car amusement, the 370Z speeds into this new model year with flawless details and affordable performance. While the 370Z showcases few changes this model year, namely in the form of a new audio system and an additional exterior color, there is no need to worry as the distinguished two-seater carries over updates from the 2015 model year for a truly contemporary experience.
And contemporary it is. The vibrant 332-horsepower V6 pairs with a 6-speed manual or 7-speed automatic to provide top-notch speeds, while the EPA-estimated fuel ratings promise practicality on your longer Phoenix commutes. Plus, you can't check out the 2016 Nissan 370Z in Phoenix without taking an extra glance at the 370Z NISMO. Created with racing-minded technologies, the NISMO edition offers extra power, a special sport-tuned suspension and a signature interior trim for track-ready performance from the start. Of course, you also can't forget the Nissan 370Z Roadster that flaunts a stylish soft-top that can drop in just 20 seconds for a breezy, convertible experience. In a state that sees about 300 sunny days a year, the convertible option is definitely a must-have that Phoenix buyers will proudly sport around town.
Whether you are looking for an affordable base model with ample standard features or a top-of-the-line sports car equipped with next-generation technology, the 370Z offers a well rounded lineup of trim levels for Phoenix shoppers. From the standard 370Z stocked with Bluetooth hands-free technology, push button ignition, an eight-way driver's seat and advanced safety features to the more advanced Sport, Sport Tech and Touring trims, most 2016 Nissan 370Z reviews are sure you cannot go wrong in this dazzling coupe.
Comfortable, alluring and personalized to meet your needs, the 2016 370Z is an impeccable choice for valley buyers. Want to learn even more? Check out our full 2016 Nissan 370Z review below or schedule a test drive appointment with our dealership in Phoenix today!