GT-R Update from Phoenix Nissan Research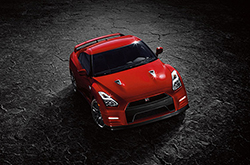 The word timid is not in the GT-R's vocabulary. Packing 545 horses and 463 pound-feet of torque, it impresses in the power department and delivers enviable performance that one might describe as extroverted or attention-grabbing. The language of performance is captured in its aerodynamic, highly contoured sheet metal and advanced engine designs. Every powerplant is crafted by an expert builder and when paired with the automated manual transmission, power hits the wheels through Nissan's innovative, world's first independent rear transaxle AWD system.
When you come see the new 2016 Nissan GT-R in Phoenix, you can also take a spin in the NISMO variant, which offers performance that's nothing short of revelatory. You'll find new passion and excitement in the art of driving with 600 horsepower and 481 pound-feet of torque under your command. Whether on the road or track, driver's will enjoy the GT-R and GT-R NISMO's swift acceleration, rapid gear changes and selectable driving modes, while appreciating updates such as last year's suspension modifications, which improve ride comfort.
On the topic of updates, every 2016 Nissan GT-R review you read will have something to say about the new, limited-to-this-year Gold Edition, which celebrates the car's 45-year career with highlights like a commemorative plaque, gold-toned VIN and Silica Brass colored exterior. With this and the addition of new 20-spoke wheel designs on Premium trims, few other changes have been made to the 2016 GT-R, but that's okay because it carries over with a slew of improvements from the 2015 model year.
Along with the aforementioned suspension updates, the 2016 Nissan GT-R in Phoenix continues to offer the advantage of braking and steering enhancements; attractive design revisions, including a new rear wing on NISMO models; and the addition of added sound insulation, which makes for a quieter cabin. Combining performance and value, GT-R also carries over with appealing standard amenities, such as a high-end Bose sound system, navigation, Bluetooth and - on NISMO models - eye-catching two-toned Recaro sport seats.
Learn more about this legendary sports car in the continuation of our 2016 Nissan GT-R review below and call or schedule an appointment online to come in for a test drive! Once you take a spin, you'll be hooked on its performance!