About Midway Nissan 370Z Reviews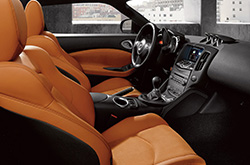 There are some great driving environments in Arizona; whether you prefer long, straight stretches in the middle of nowhere or winding mountain roads, you'll find them here. It's a sports car paradise with blue skies about 300 days a year. A place you can drive your 2015 Nissan 370Z in Phoenix with the top down and feel comfortable, summer or winter, thanks to available heated and cooled seating. Drive the Carefree Highway, just like in the song, and soak in the sun, the sounds and the feel of the road. Join us as we offer up some stats, talk about features and quote a few test drivers who offered up their impressions in various 2015 Nissan 370Z reviews.
Starting with some 370Z specs: the non-NISMO models feature a 3.7-liter V6 engine that cranks out 330 horsepower at 7,000 rpm and 270 pound-feet of torque at 5,200 rpm. Depending on trim, you have either a seven-speed automatic transmission with paddle shifters and downshift rev matching, or a six-speed manual with limited-slip differential. About five-and-a-half seconds takes you to 60 mph and is capable of rocketing along at 156 mph, which we're telling you so you don't need to test it for yourself, unless you plan a little track-time. If you do, you may want to test out the Z's drift. According to Jalopnik writer, Michael Ballaban, it's "more fun that any little Nissan has a right to be."
TopSpeed's 2015 Nissan 370Z review ticked off some of the 350-horsepower 370Z NISMO tech package's includes, naming, among other things, a 7-inch touchscreen interfaced navigation system, rearview monitor and auto-dimming rearview mirror, satellite radio and Bose audio sound. But regarding performance, our favorite test driver remains the personable Ballaban, who not only waxed poetically - well, repeated emphatically - that the Z's brakes are good, but gave us this beautifully distilled comment on handling: "Communicative, sharp, responsive, fantastic."
There you have it. For a real driver's car that's sharp, responsive and fun, check out the 2015 Nissan 370Z in Phoenix.�