Midway Nissan Previews the New Xterra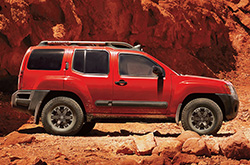 The 2015 Nissan Xterra is the rough-n-ready SUV offered in X, S and PRO-4X trims for off-road enthusiasts who need to make do with only one vehicle. More at home off-road than on, the Xterra nevertheless will perform its due diligence on city streets and offer an actual roof and solid doors to keep your belongings secure when you're parked on the street or in a lot. Yes, you may want to compare Xterra to Jeep Wrangler because you can drive the 2015 Nissan Xterra in Phoenix onto desert terrain, boldly traversing rocky washes and sandy wadis. In researching our 2015 Nissan Xterra review, we realized there's no longer much competition left out there for rugged unibody SUVs. The FJ Cruiser stopped production as of last year, leaving only a couple Jeep models to bid against the Xterra for the off-road market.
The Xterra's 4-liter V6 produces 261 horsepower and 281 pound-feet of torque. Rear-wheel drive is standard in the base model with a five-speed automatic. We recommend springing for the four-wheel drive system option with low-range transfer case, paired with a six-speed manual transmission, unless you plan to only occasionally traverse some rutted dirt paths. We strongly agree with Kelly Blue Book's comment in their 2015 Nissan Xterra review: "If the terms "approach angle" and "breakover" are in your daily conversations, then the 2015 Nissan Xterra SUV is a must-shop." For real off-road enthusiasts, the way to go is the PRO-4X and its standard 4WD, locking rear differential, fuel tank and transfer case skid plates, Bilstein shocks, roof-mounted lights and off-road tires on 16-inch wheels.
In some ways the Xterra is old school; a truck-based SUV that emphasizes performance and sheer toughness over fuel economy. In other ways, it tips its hat to the new wave of luxury amenities cropping up in all sorts of vehicles where you don't expect them. The base Xterra X SUV has quite an extensive list of standard comfort and convenience features. For instance, full power accessories, remote keyless entry, cruise control, six-speaker sound, and Bluetooth connectivity. AC is also standard, but in Phoenix, we like to think of that more as a necessity than an amenity. If you'd like to test drive a 2015 Nissan Xterra in Phoenix and investigate these features first hand, drop by Midway Nissan, where you'll find a nice selection and a helpful, knowledgeable staff.