Review the 2015 Versa from Nissan Dealer in Phoenix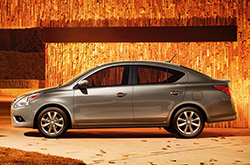 Practicality and economy are the name of the game for Nissan's smallest and least expensive car in the lineup. The 2015 Nissan Versa received an interior and exterior update and added standard features without any increase in the starting MSRP, so it's good news for bargain shoppers! Whether you're in the market as a first-time buyer or you're looking for a student car or second car, you'll want to take a look at a 2015 Nissan Versa in Phoenix. Both the Versa sedan and Versa Note hatchback offer an abundant space for shopping bags, laundry-day loads or cargo trips to and from college in the sedan's huge trunk or behind seating in the hatchback. The Versa is also noted for its comfortable ride. As The Car Connection noted in their 2015 Nissan Versa review: "The soft suspension manages to soak up road imperfections without losing its composure - an impressive feat in this class."
You'll find the 2015 Nissan Versa in Phoenix offered in four trim levels, while the 2015 Versa Note adds two trims this year, topping out at five levels so you can enjoy additional amenities on a budget. You may find the base Versa is pretty livable though, especially with the newly added Bluetooth hands-free phoning capability. Other changes this year include a new center stack and revised meter display (they dumped the orange glow for a cleaner white LED display); and updated steering wheel to include built in Bluetooth phone controls. The AM/FM/CD stereo also added an auxiliary input jack for enjoying your own MP3 collection. AC is also standard on the base model, an absolute must for most of us who live in Phoenix. You'll still have to crank up the windows in the base model, but that can come in handy when you experience battery failure - another hazard of desert living.
To check out some of the available features that come with upper trim levels, watch the video overview later in our 2015 Nissan Versa review, or click through on some of the sample inventory offered at Midway Nissan and investigate the option packages and prices on various selected Versa models in Phoenix.