Phoenix Pathfinder Research on the 2015 Nissan Model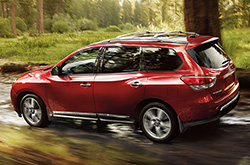 The family-friendly Pathfinder SUV returns to Phoenix with a few changes for the 2015 cycle. We'll look at powertrains, trim levels and their option packages in our 2015 Nissan Pathfinder review. We're seeing most of this year's changes involve additions to standard features on various trims, an added 360-degree monitor to certain tech packages, plus the addition of blind spot and rear traffic alerts to upper level trims.
When you shop the 2015 Nissan Pathfinder in Phoenix, the first order of business may be climate control. If it doesn't have a kickin' AC system, we don't want it, and frankly, cooled seats are more important to some of us than a wide array of other popular features. Our priorities may be different from shoppers in other parts of the country, but the fact that the start/stop technology feature in the Pathfinder hybrid does not activate in hot weather, but rather keeps the AC running at optimum levels, is ok-fine by us! And yes, cooled front seats are part of the Platinum trim's equipment package. In fact, they are heated and cooled, so you can let the fresh air in on the few chilly winter mornings we have here, and still stay toasty warm by using (front and rear) seat heaters.
Other 2015 Nissan Pathfinder reviews cite a pleasant, smooth, refined ride as a positive selling point. We can't argue with that! Abundant comfort and convenience is found in the Pathfinder's spacious and comfortable interior cabin, where much attention has been paid to features prized by families. You have a sliding second row that scoots up to easily reach young children strapped safely in their seats, or slides farther back to allow older offspring or adult passengers extra leg room. That seating row will also mechanically slide and fold to offer entrance to the third row while leaving your child safety seats undisturbed.
Pathfinder's 260-horsepower V6 and continuously variable transmission is the standard powertrain with a supercharged four-cylinder hybrid choice which is paired with a 15kW electric motor. The combination delivers 150 horsepower and makes additional gains in fuel efficiency.
We like the fact that the Pathfinder looks pretty spiffy for a family SUV that seats seven. The 2015 Nissan Pathfinder in Phoenix is available in S, SV, SL, SL Tech, SL Premium and Platinum trim levels. Learn about many more features by watching the Pathfinder SUV video tour at the end of our review.�