Phoenix Dealer Researching the New NV Cargo NV Cargo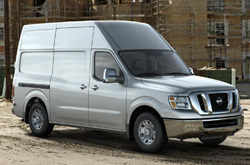 While Nissan commercial vans are still the new kids on the block in the U.S., they've been serving businesses around the globe for many decades. Today, some of Nissan's NV Cargo and NV Passenger vans are assembled right here in the states. We'll be highlighting those full-size vans as well as the compact 200 in our 2015 Nissan NV review for Midway Nissan's commercial van shoppers.
The full-sized NV Cargo van provides Phoenix business owners optimal utility, offering a variety of configurations and powertrains in standard and HD models with cargo capacities ranging from 234 to 323 cubic feet. Flat loading floors will fit two 40" x 48" pallet stacks and carry maximum payloads of 2,758 pounds in the NV1500; 3,290 pounds in the NV2500 standard roof V6 and just over 4,000 pounds in the NV3500 HD standard roof-V8. You'll also be able to tow up to 9,500 pounds with a properly equipped NV2500 or 3500 HD cargo van. Designed with customization in mind, the NV cargo vans offer 57 interior integrated cargo mounting points and is pre-wired for electrical upfitting. Check with Midway Nissan's commercial fleet department about customizing a 2015 Nissan NV in Phoenix.
The NV Passenger van will seat twelve occupants across four rows. All but the front row can be removed to make room for cargo, making this an extremely versatile people-and-package transport vehicle. You'll notice the Nissan NV Passenger's engines - a 261-horsepower V6 and 317-horsepower V8 are the same as those used in the Frontier. Depending on your trim level and option package, you can load up your passenger van with every modern convenience from voice recognition controlled navigation and audio entertainment to satellite radio, Bluetooth iPod streaming and USB MP3 player connections.
You may find the compact and economic 2015 Nissan NV200 in Phoenix to be the best choice for your small business. The NV200 requires a lower initial investment than the Ford Transit Connect and it delivers better fuel economy on the surface roads. The NV200's unibody construction offers a more secure driving experience; it drives more like a compact SUV than a top-heavy van. The 200's four-cylinder engine and CVT won't win any races, but most business owners prefer their delivery drivers to take a conservative approach to driving, so the trade-off of fuel savings for muscle works well.
Our 2015 Nissan NV review continues below, but for information on any particular option or customization you may require, please contact our Midway Nissan commercial fleet department.