2015 Nissan Murano Reviews from Midway Nissan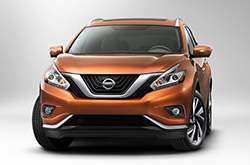 Frustrated by exciting concept car previews that are followed by ho-hum production models? Not anymore! Nissan is embracing the concept design for the new 2015 Nissan Murano production model. Not only does the new Murano SUV have eye-popping style, but the new look garners better aerodynamic performance and increased fuel efficiency. It's amazing what drag can do to your gas consumption. Murano's new longer, wider and lower wheelbase design has a drag coefficient similar to what we found in sports cars just a few years back, paving the way for a twenty percent gain in fuel economy with the same 3.5-liter V6, 260 horsepower engine. A continuously variable transmission pairing is also a big contributor to increased efficiency. Read on as our 2015 Nissan Murano review takes a closer look at the new design.
The first thing you'll notice when shopping the new 2015 Nissan Murano in Phoenix is the intensity of the front-end styling. LED projector headlamps slant back sharply to instantly create a sense of sleek athleticism. The bold Nissan crossover signature v-motion grille adds to that impression of easy movement. Side contouring leads the eye back and upward to meet the integrated spoiler that appears to float above the hatchback. Move to the back and note rear combination LED lamps and dual exhaust.
Inside, a new upscale lounge design concept is at work with visually lighter colors and materials with interesting, even retro-style patterns replacing bland dark plastics. A panoramic sunroof adds to an open, airy feeling, while up front, the large center console touch screen control center offers a familiar smartphone-style interface. An advanced driver-center screen is flanked by classic gauges for speed and rpm, in a piquant combination of new age and retro styles.
All the latest in available radar-based safety systems are offered in the new 2015 Nissan Murano in Phoenix, from predictive forward collision warning with emergency braking to blind spot and rear cross-traffic alerts. Learn about more standard and available features from the video tour that caps off our 2015 Nissan Murano review.