Midway Nissan Shows Off the New Nissan Leaf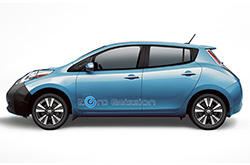 Anyone thinking about a zero emissions commuting vehicle will do well to consider the new 2015 Nissan Leaf in Phoenix. With electrical costs lower than the national average, Phoenix drivers will enjoy abundant savings on annual commuting costs. This all-electric four-door hatchback Leaf is offered in three trim levels: S, SV and SL. The Leaf's full charge 84-mile range should be sufficient for most work commutes since it can be recharged at home overnight. A comfortable interior and user friendly controls make this attractive e-car a popular choice among urban area drivers who desire a greener lifestyle. We're not the Leaf's only fans; 2015 Nissan Leaf reviews are replete with positive statements about its affordability, good handling and nice tech amenities.
Like all electric cars, the Leaf provides a whisper-quiet ride. Powered by a 107-horsepower electric motor and 80 kW lithium-ion battery, the front wheel drive Leaf produces 187 lb-ft of torque from zero rpm, so it is an ideal car for zipping around town. Home charging with a 220 volt line takes five to eight hours, depending on your system. When it's crunch time, SL models equipped with a fast charge receptacle will accomplish an 80 percent charge in only 30 minutes. How's that for fast charging?
New for 2015, the base model acquired the SV and SL standard regenerative braking system that sends power from deceleration back to the battery. Hands-free text messaging and voice-activated destination entry are newly added to SV and SL models. Other assistance technology includes smartphone apps which help you monitor and control your battery charge.
Inside the Leaf's open and airy cabin you'll find Bluetooth and USB connectivity along with satellite radio to keep you entertained. A rearview camera is standard on every 2015 Nissan Leaf in Phoenix. Nissan's 360-degree view camera system is optional. See more standard and available features by watching the video overview at the conclusion of this 2015 Nissan Leaf review.