Take a Look Phoenix Nissan Shoppers - the GT-R has Arrived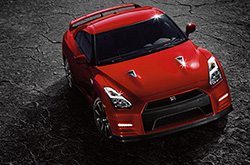 Nissan has really iced the cake this year with the newly launched 2015 Nissan GT-R NISMO. The GT-R was already a stand-out supercar with its seating for four in non-track models. Now the new NISMO edition is the fastest car ever driven by many of the reporting test drivers. We're getting feedback like "You'll roll up into triple-digits speeds - even in sweeping corners - before you can catch your breath," from The Car Connection's Bengt Halvorson; and "My confidence climbed as quickly as the GT-R did the mountain," from Motor Trend's Nate Martinez in his 2015 Nissan GT-R review. By far our favorite was The Fast Lane Car's Roman, who was fairly giddy every time he really stepped down on the accelerator. Roman commented on the excellent sound of the NISMO, which is an induction sound, rather than exhaust noise; more like a jet airplane than a car. The result is that it's really pretty quiet, considering the incredible power.
When you shop for a 2015 Nissan GT-R in Phoenix, you'll be choosing between a Premium, a Black Edition, a Track Edition and the all-new NISMO. Standard equipment in the entry-level Premium includes 20-inch alloy wheels, an adaptive suspension system, Brembo brakes, automatic LED adaptive headlights, LED running lights and a rearview camera. When you push the ignition button, you'll power up a hand-built Nissan twin-turbo V6 taking up 3.8 liters of space and producing 545 horsepower and 463 lb-ft of torque. The NISMO edition V6 increases those numbers to 600 horsepower and 481 lb-ft of torque. Take a moment to wrap your head around those numbers that allow the 2015 GT-R NISMO to reach sixty mph in under three seconds. Any 2015 Nissan GT-R in Phoenix will also offer you a selection of programmed settings that will help you transition between street-legal motoring and sharp-edged, road-carving, throw-you-back-in-your-seat-accelerating driving.
Inside, standard equipment includes an eight-way power-adjustable driver seat along with Bluetooth audio connectivity - both necessities for keeping the driver comfortable and support-balanced with hands on the wheel. Navigation, satellite radio, blah blah - do you really care? They had me at three seconds. Nevertheless, you can see a video tour highlighting the GT-R's features later in our 2015 Nissan GT-R review.�