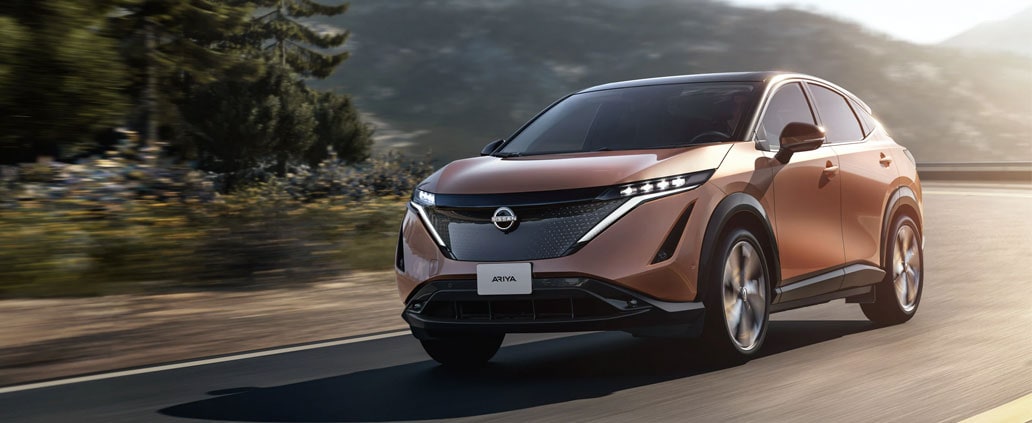 Nissan introduces its first all-electric crossover SUV with the 2022 Nissan Ariya. This debut makes its mark to embody Nissan's vision in enriching people's lives by delivering innovative and practical designs.
What to Expect From the 2022 Nissan Ariya
The Nissan Ariya will offer an estimated 300 miles of driving range, powered by two different battery sizes. The standard battery that equips the Ariya is a 63 kwh battery. However, a larger 87 kWh pack is optional. Depending on the chosen battery size, the Nissan Ariya can output impressive power that ranges from 215 to 389 horsepower and 221 to 443 lb-ft of torque. Both battery packs are available with front-wheel drive or all-wheel drive, referred to as "e-4ORCE". These two attributes of this crossover SUV makes it stand out among the other electric vehicle brands.
2022 Nissan Ariya Features
The 2022 Nissan Ariya interior and exterior offer a modern and sleek appearance. Some distinctive exterior features include a flow-plate front grille, LED lighting, and a rear spoiler. There is also the LED taillight, and you can choose between 19 and 20-inch wheel design. The 2022 Nissan Ariya has a unique logo that will be evident on all Nissan models going forward.
The interior showcases a minimalist design with great copper-colored accents. A broad dashboard houses the 12.3-inch infotainment screen and the 12.3-inch instrument panel. The buttons in the vehicle are touch-capacitive enabled and only light up when the vehicle power is on. Thanks to the touch-capacitive feature, the cabin has a streamlined and clean outlook. The vehicle has a head-up display unit, a steering wheel with a unique two-spoke feature, and touch-capacitive buttons. The Ariya has a flat floor, which ultimately offers a more spacious cabin.
2021 Nissan Ariya Safety and Technology
Some of the safety and driver assistance features available on this vehicle include a front and rear automatic braking system, a lane departure warning, and a high-beam assist a rear cross-traffic alert and blind-spot monitoring. Some technology features in the 2022 Nissan Ariya model include Android Auto, Wireless Apple Carplay, the digital assistant that enables control of the vehicle, and the standard Amazon Alexa feature.
We are happy to share details on the all-new Nissan Ariya. If you want to know more about the 2022 Nissan Ariya or would like to reserve yours, contact our Nissan dealership today.