Today's auto shoppers are looking for the best they can get. This is especially true for the SUV class, which is one of the most popular in the world. Some people want an SUV to tow their family around and look good driving through town. Others want a vehicle that will take them off the beaten path. With its good looks, power, interior amenities, and performance capacity, the 2019 Rock Creek Nissan Pathfinder does both. Everyone will appreciate its roomy cabin, comfortable seats, and modern infotainment system. Its impressive towing capacity, performance capability, and custom exterior also appeals to the adventurous car shopping crowd. No matter what you're looking for in your next SUV, the 2019 Rock Creek edition has something for everyone.
Interior Features
Stepping into the cabin of the 2019 Rock Creek edition, you'll feel more like you're stepping into a high-end luxury SUV. You'll be greeted with two-tone seats (that can be heated and ordered in leather depending on the trim level) with an eight-way power adjustment. The interior features a standard tri-zone climate control to ensure everyone stays comfortable. Custom stitching gives the interior an elegant appearance, and the eight-inch infotainment system provides hours' worth of entertainment and connectivity. If you want even more in the way of comfort, choose the package that adds on a heated steering wheel too.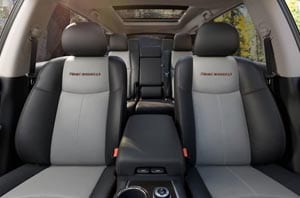 Exterior Amenities
Some cars are designed just for show, but the Rock Creek's attractive exterior also has a practical purpose. This year, the Rock Creek edition features a sleek, head-turning outer shell that includes black-accented front and rear fascias, an attractive all-black front grille, 18-inch wheels, and seamless black roof rails. The wheels, which are larger and wider than the trim level previously offered, add to the vehicle's good rugged looks. They also provide more stability and control when you're venturing off on dirt trails and unpaved roads. The roof rails give the 2019 Rock Creek edition a distinct appearance. They are also specially designed to help you haul your canoe, mountain bike, skis, or camping equipment around. Along with these amenities, a special blacked-out package adds more black accents around the car's exterior. If you choose the four-wheel drive version, you'll get custom badges that highlight the fact that you are driving a capable off-road SUV. Splash guards and a wiring harness enhance the Rock Creek's appearance and making towing easier.
Performance and Handling
Beneath the hood, the 2019 Rock Creek SUV is powered by a six-cylinder engine with a 24-valve configuration. This engine generates up to 284 HP at a peak capacity of 6,400 RPM. It also gives you a maximum torque production of 259 LB-FT at just below 5,000 RPM. This engine is paired with an automatic transmission that has continuously variable timing (CVT) technology for optimal performance. The Rock Creek edition is offered in both a two-wheel drive and an intelligent four-wheel drive configuration. Two-wheel drive will get you through most terrain, but the four-wheel drive option provides even more off-road traction and power. If you choose four-wheel drive, you'll get special driver-assist features like hill descent control too.
If you are in the market for a rugged, reliable, off-road SUV, the 2019 Rock Creek edition of the Nissan Pathfinder deserves your attention. This powerful SUV offers plenty of power, convenience, and durability. With a variety of paint colors, packages, and optional amenities, it has plenty of room for a custom finish, too. To learn more about the 2019 Rock Creek edition or schedule one for a test drive, don't hesitate to contact our dealership by phone or online today.