In recent years, with vehicle technologies increasing in number and sophistication, automakers are always looking for ways to make it easier for drivers to use information and entertainment features. In 2013, Nissan came up with a system that integrates such features in a dashboard-based head unit and enables connection with the driver's smartphone. This system, which is called NissanConnect®, not only makes it more convenient to carry out various car functions, but also keeps you more focused on driving.
How To Get Started?
To start using NissanConnect®, you will need to create a Nissan Owner Portal account at nissanconnect.com. The username and password should be used for registering for services, a process that starts by pressing the Menu button of your dashboard head unit or touchscreen display. You will also need to pair your Bluetooth-enabled smartphone, and the credentials you created can also be used to log in to the NissanConnect® companion app that is downloadable on your smartphone.
What Can NissanConnect® Do?
Thanks to Amazon Alexa technology, NissanConnect® enables you to use your voice to remotely perform functions on your vehicle. For instance, if you have an Altima and you want to start it to heat up or cool down the cabin, you can say into your phone using the app, "Alexa, tell NissanConnect® to start my Altima." You can also unlock your doors, flash the lights, and sound the horn, among several other functions. The app will also enable you to find where your car is parked or send destinations to your navigation system.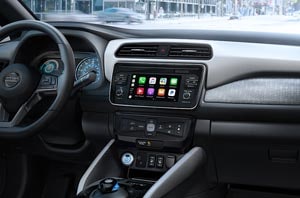 In the Nissan vehicle, you have a touch screen for executing commands with absolute convenience. Music apps like Pandora, Apple CarPlay, iHeartRadio, and SiriusXM Satellite Radio will keep you entertained and informed, and Bluetooth is on board to enable hands-free phone calls and texts and audio streaming. With SiriusXM Travel Link, you can boost your trip experience with functions that range from fuel prices and movie listings to weather and stock prices. If you have a navigation system, it will be powered by Google Maps to get you to your desired destinations, and you can bolster such an experience with the Google search engine for finding points of interest and SiriusXM Travel Link for traffic updates and alternate route suggestions. And of course, if you can't get enough of your social media, there are the Facebook and Twitter apps to keep you connected.
NissanConnect® goes beyond making your ownership of a Nissan vehicle more convenient. It also looks out for your ride. You can get a vehicle health report to ensure that everything's okay and spot problems to take care of if any. In addition, maintenance alerts and scheduled maintenance notifications are available to make sure that you are taking care of the vehicle according to the owner's manual and manufacturer's recommendations. That way, you can enjoy your car—and the benefits of NissanConnect®—for several years.
To check out Nissan vehicles and the NissanConnect® packages available, call us today at Midway Nissan in Phoenix, Arizona to set up an appointment. One of our Nissan experts will be more than happy and able to assist you.