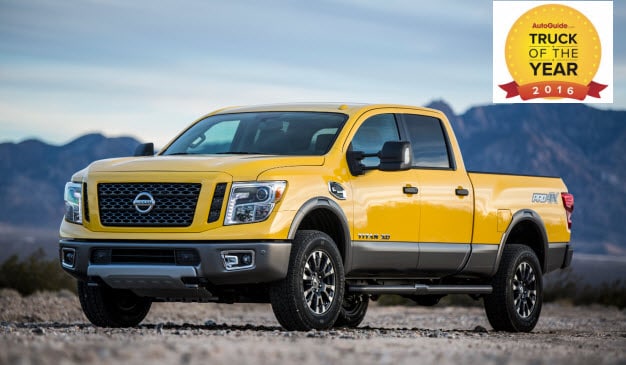 AutoGuide.com has crowned the all-new Nissan Titan XD the "2016 Truck of the Year." The automotive source praised the full-size truck for its impeccable 555 lb.-ft. of torque and ability to offer a wide array of capabilities without sacrificing comfort. Available now at Midway Nissan, the 2016 Nissan Titan XD is one of the most versatile new trucks in the half-ton pickup segment and we are proud of its ongoing achievements.
"The new Nissan Titan XD offers a comfortable, quiet ride and more confidence than what you'll find in today's half-ton pickup market," said Stephen Elmer, AutoGuide.com's resident Truck Expert. "For the customer who is focused on towing, the TITAN XD will deliver, while a number of handy features like the new trailer light check system make the truck a great working companion."
Since its release, the Titan XD has been honored by multiple automotive sources for its abilities and top-notch features. The Texas Auto Writers Association recently named it the "Truck of Texas" following their annual Texas Truck Rodeo. It was also named the "Best Pickup Truck of 2016" by Cars.com and PickupTrucks.com. Offering 310 horsepower through a Cummins 5.0L V8 turbo engine and a 12,300-pound towing capacity when properly equipped, the Titan XD is one of the best trucks you can purchase on the market today and it's not difficult to see why it has become a hit with both critics and buyers.
The new XD model is just one of several under the Titan nameplate, with the others slated to arrive later this year. When each one lands in Phoenix, head over to Midway Nissan to take them for spin and one of our representatives will give you a rundown of their standout features.