Nissan Pathfinder Review for 2013 Model Year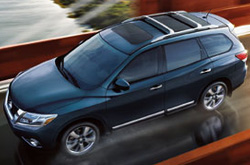 Does the Pathfinder have what you want out of a vehicle? Scroll past the video to find out! The Nissan Pathfinder reviews are composed by experienced vehicle authors. It is just one of many resources we provide as the chief Nissan retailer in Phoenix. Once you begin to read, you'll find that this article is stuffed with worthwhile features and information. What are you waiting for? Watch the video below or start reading the 2013 Pathfinder review below!
Pathfinder Video Review - Specs, Features & More
Salient Nissan Pathfinder Specifications
Check out the 2013 Nissan Pathfinder alongside versus similar autos like the 2013 Ford Explorer, Mazda CX9, Dodge Durango, Chevrolet Traverse, Ford Flex and the GMC Acadia, and you will discover that the 2013 Pathfinder scores higher those vehicles in various areas. Look over the reasons see why!
2013 Nissan Pathfinder Body Style(s): Midsize SUV
2013 Nissan Pathfinder 0-60 MPH in 7.8 seconds
2013 Nissan Pathfinder Cargo Space: 16.5 cubic feet
2013 Nissan Pathfinder Colors: Pearl White, Super Black, Storm Blue, etc...
2013 Nissan Pathfinder MSRP: $28,270
2013 Nissan Pathfinder Seats: 7 passengers
2013 Nissan Pathfinder MPG: 15 city / 22 highway
Compare the 2013 Pathfinder side-by-side against its competitors
Nissan Pathfinder: Standard & Available Features for 2013
New 2013 Pathfinder Engine & Powertrain Specs
Safety Features & Nissan Warranty Facts for Owners
Learn About Our Nissan Auto Repair Center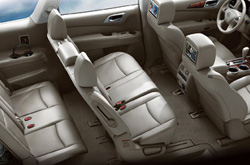 Nissan Pathfinder owners won't get the same wonderful factory-trained Nissan mechanics and legitimate Nissan parts at a conglomerate service company. But at our Phoenix dealership you'll get this every day, along with the tranquility that comes with getting a lengthy service warranty. Keep your Pathfinder running healthily; have it serviced by Midway Nissan's masterly car repair mechanics. From arduous operations like shock and strut repair to less time consuming services like air filter replacement and simple simple oil and filter changes, our Nissan repair mechanics do it all. It's self explanatory - to get thrifty prices and professionals Nissan repairs, Midway Nissan should be your number one choice when selecting a Phoenix auto center. When you head down to Midway Nissan's service department, take advantage of tremendous savings with our the most up to date specials. Click below!