Phoenix Dealer Researching the New Maxima Maxima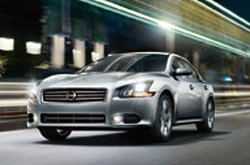 Go ahead and scroll down below the video to begin learning more about the latest version of the Nissan Maxima. The Nissan Maxima reviews are recorded by experienced vehicle authors. It is just one of many resources we provide as the chief Nissan franchise in Phoenix. We're your Nissan Maxima dealer; this article will help you learn everything you need to know about the Nissan Maxima in Phoenix. Good luck in your search!
Watch a Video on the New Maxima
Is the Nissan Right for You?
Compare the 2013 Nissan Maxima alongside vehicles like the 2013 BMW 3 Series, Volkswagen CC, Hyundai Genesis, Chrysler 300, Lincoln MKZ and the Acura TSX, and you'll discover that the Maxima out does the competition in gobs areas. Look over our Quick List below to find out why!
2013 Nissan Maxima 0-60 MPH in 5.8 seconds
2013 Nissan Maxima Body Style(s): Sedan
2013 Nissan Maxima Seats: 5 passengers
2013 Nissan Maxima Cargo Space: 14.2 cubic feet
2013 Nissan Maxima Colors: Brilliant Silver, Metallic Slate, Navy Blue, Tuscan Sun, etc...
2013 Nissan Maxima MPG: 19 city / 26 highway
2013 Nissan Maxima MSRP: $32,780
Nissan Maxima: Standard & Available Features for 2013
Safety Features & Warranty Info for Phoenix Nissan Buyers
Affordable Nissan Service in Phoenix, Arizona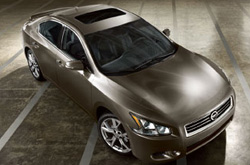 Nissan Maxima owners won't get the same wonderful factory-trained Nissan mechanics and legitimate Nissan parts at a chain service company. But at our Phoenix dealership you'll have access to this daily, along with the sense of bliss that comes with attaining a long-term service warranty. The specialists at our Arizona Nissan service center can be trusted to keep your Maxima in outstanding working order for years to come. From tough projects like transmission repair to less tedious jobs like air filter replacement and simple regular oil and filter changes, our Nissan repair squad do it all. Midway Nissan's got you covered for tried-and-true Nissan repair and factory-scheduled service in Phoenix. For instant savings, check out coupon specials at the following link.